Tonight is our second of two nights in Fawcett, Alberta with Danielle's aunt and uncle. We've covered many miles but still have many more to go. Our next destination is Saskatoon. By incredible luck, our chosen hotel has a pool that is open until midnight, so we should be spared the ritual of watching the Google Maps navigation in despair as the potential time available for swimming trends towards zero.
Speaking of Google Maps, I have opinions about it. First of all, this business of picking supposedly fuel efficient routes by default. Turn that garbage off! You don't want to end up miles out of your way, in the middle of somebody's cow pasture, because an algorithm in Silicon Valley figured it would save you two dollars' worth of gas.
Another thing is ETAs – I would like more transparency as to how they are calculated. Do they assume you're going the speed limit? Pulling the trailer, we can generally go 90 km/h on smooth (divided) highways, and 80 km/h otherwise. Assuming a 100 km/h speed limit, 80 km/h would be 80% of that, therefore 20% slower. I know 10% of 60 minutes is 6, so that's an extra 12 minutes every hour. That doesn't seem like much, but for an 8 hour ETA that's an extra 96 minutes, or about an hour and a half. Then if you're going east across a time zone boundary, add the one hour extra clock time for practical considerations (for example, to determine if you can get to the hotel before the pool closes, or you want to at least technically arrive the date you told your hosts you would).
Anyway, we made it from Prince George to Fawcett safely, and that's what matters. Before we left Prince George, we stopped at the vistior information centre in the train station building to get an official provincial map (for me) and postcards (for Danielle). The people there were very nice.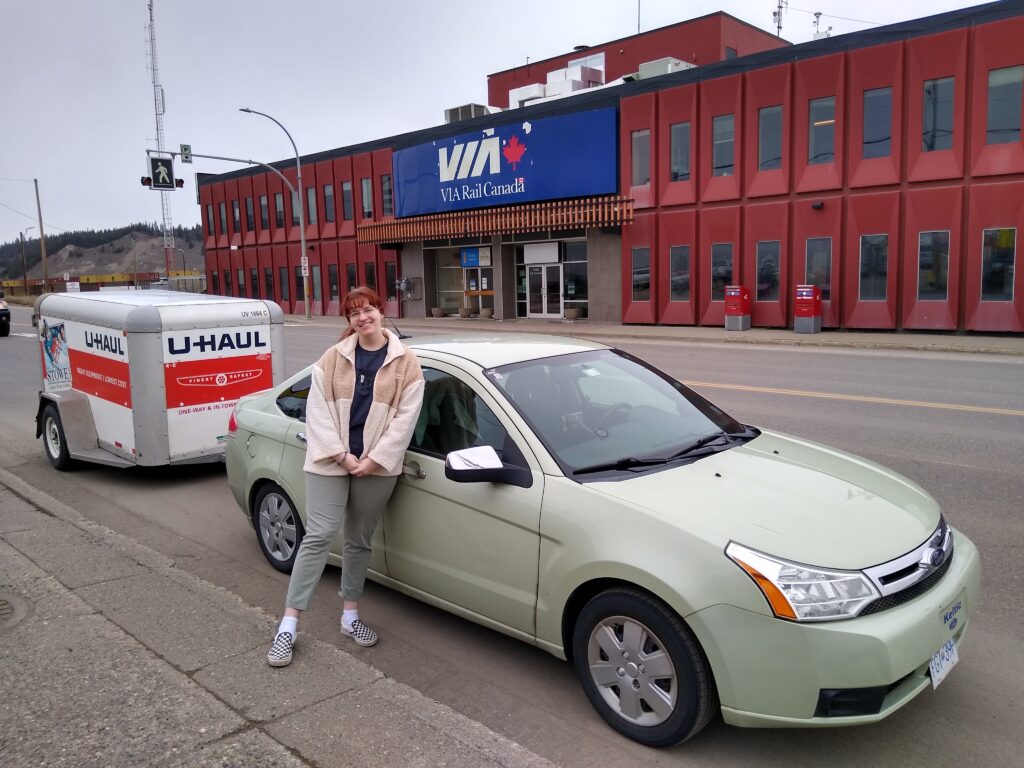 Our first rest stop was the one at Slim Creek, which I was fairly impressed with. It had real toilets and heated washrooms. It's open year-round, although they don't bother scooping out the tourist information displays and other non-essentials, as you can see: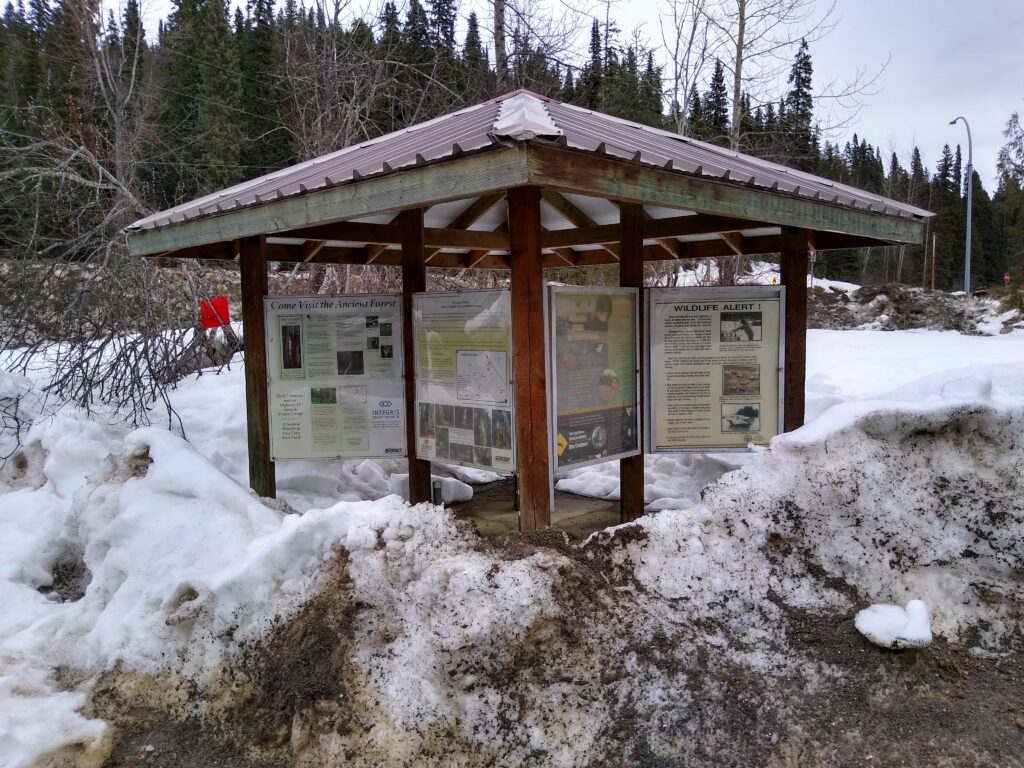 We were also able to stop at the Rearguard Falls viewpoint, which I'd previously visited on my way to Prince Rupert in 2017.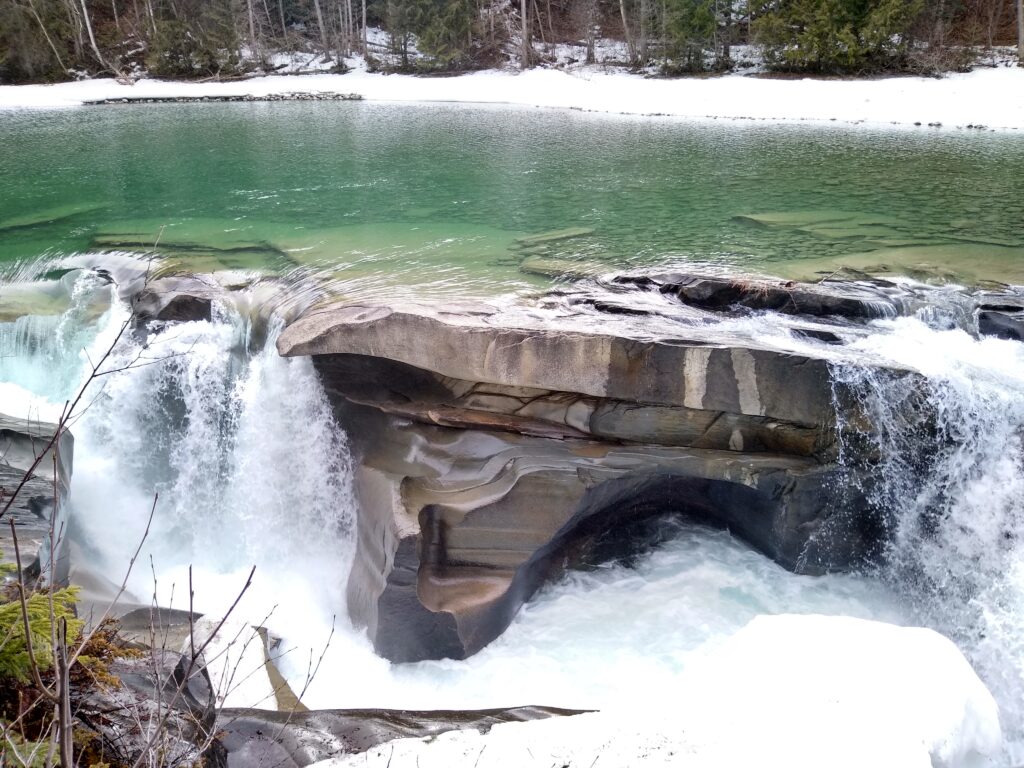 On that trip I had also noticed the pullout for the subsequent Overlander Falls, and I wanted to see them this time. (Just as well that I couldn't, as you'll see.) But everything around the pullout was still buried in snow and there was no sign of the trail.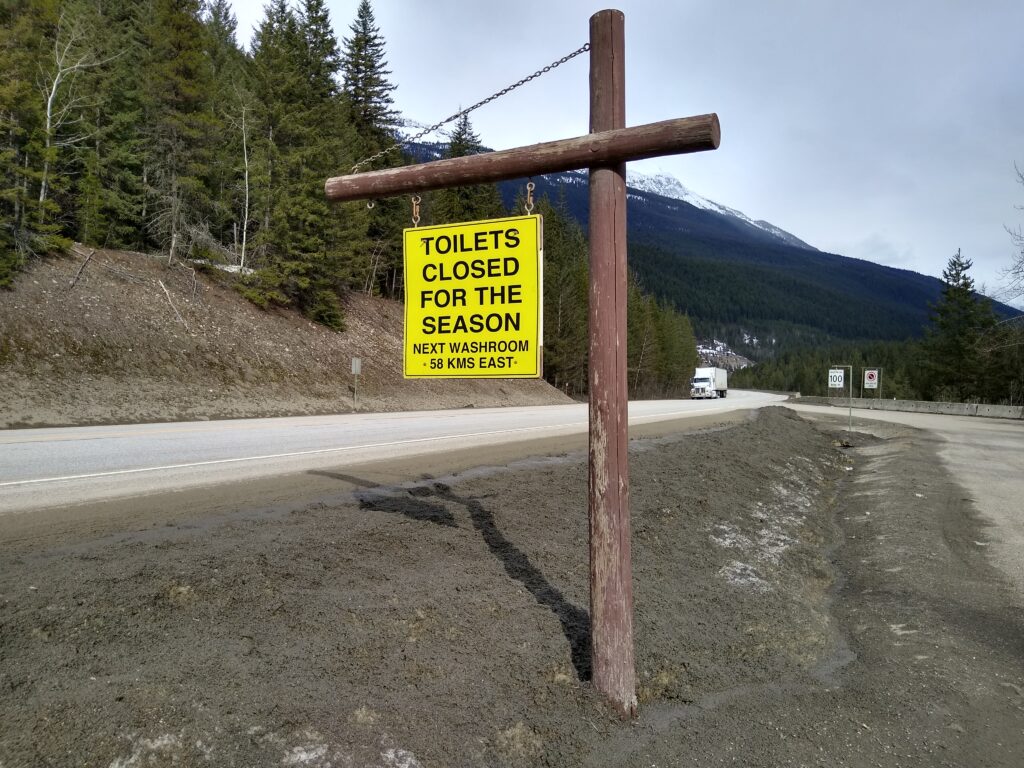 At the BC / Alberta border, we found an astute commentary on housing prices (you can click or press on these images to enlarge them):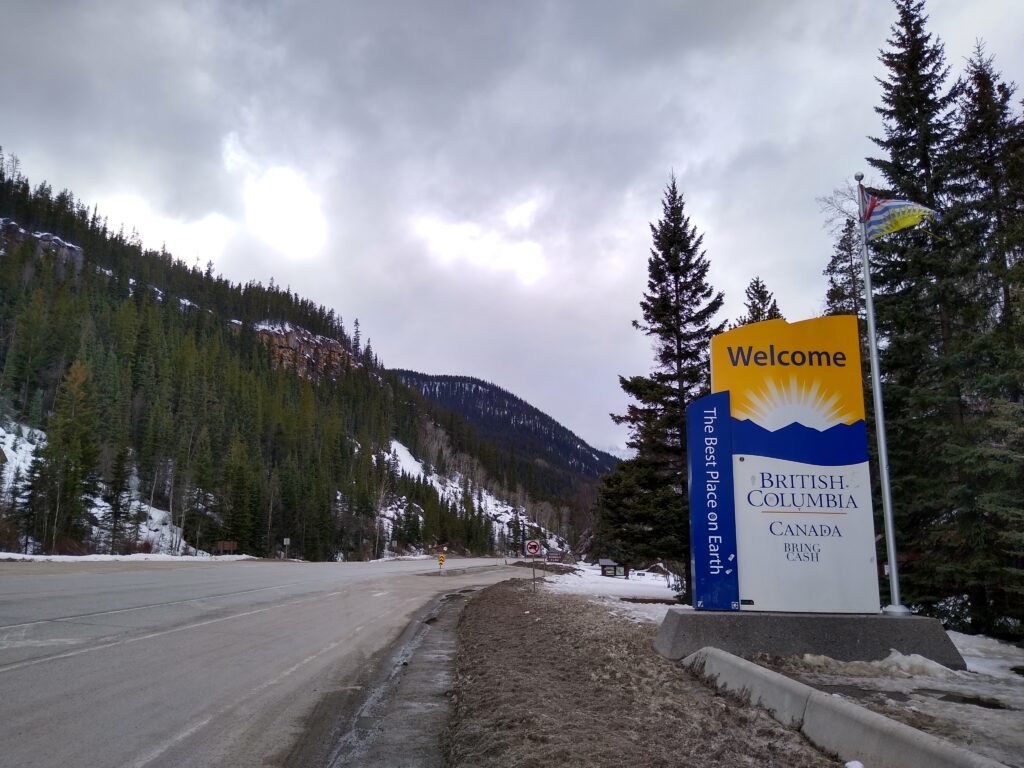 When we got to Hinton (we saw what we think was a doe moose in Jasper), we went to a Boston Pizza, the very same one I had dinner in 18 years prior on a trip to Jasper out of Grande Prairie via Grande Cache. It didn't disappoint.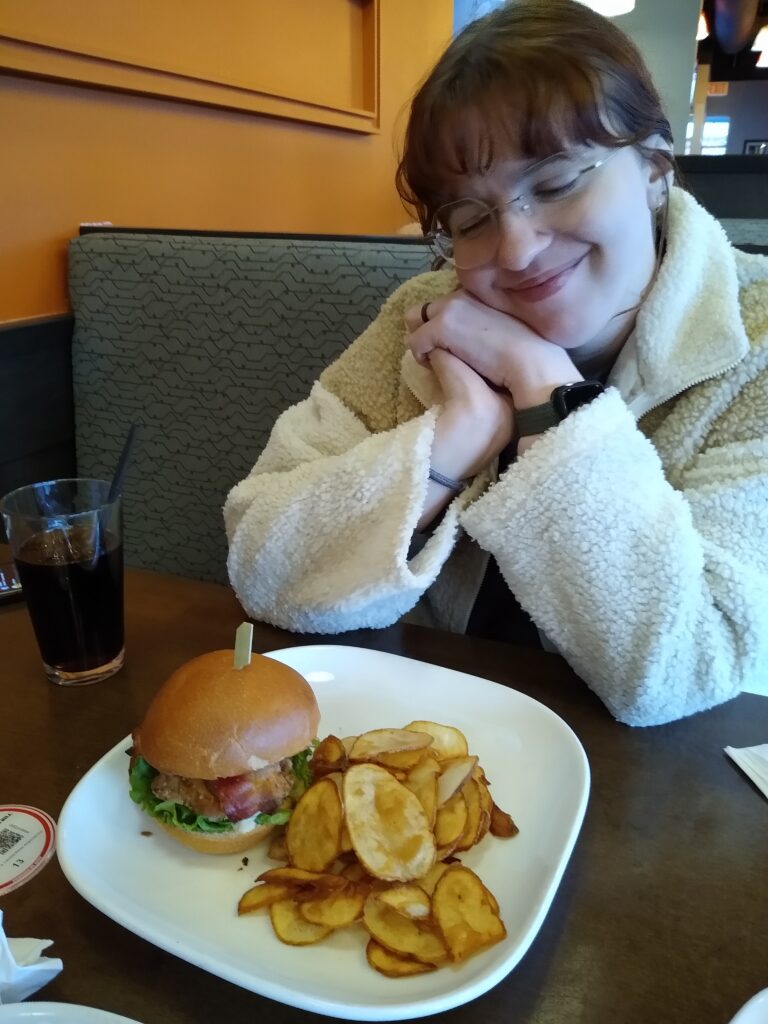 But dinner and sights combined with the time zone change and slow driving meant we would get to Fawcett very late. What we should have done was stay on Highway 16 and just go up Highway 44 to Fawcett, basically a backwards capital L. Indeed out of the alternative routes Google presented me, I picked the one that stayed on 16 the longest (its being for the most part a high-speed divided highway if not formally a freeway), but we were still obliged to go up Highway 22 through Mayerthorpe and then Highway 18 through Barrhead.
But although it was scary driving on unfamiliar deserted roads in the middle of the night, where things went sideways is when I was turned onto secondary highway 776 at Pembina Heights: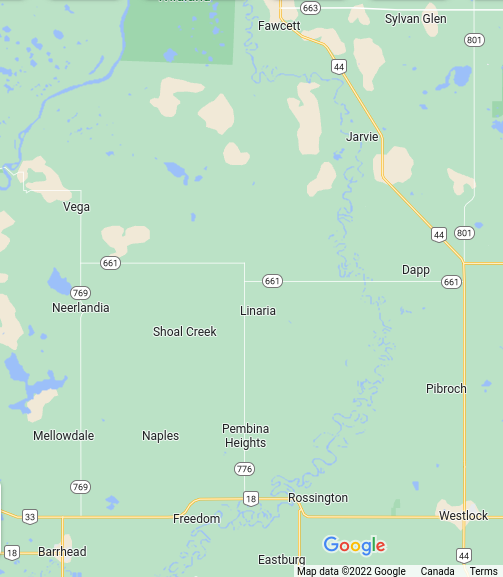 This in and of itself is not actually a bad decision because if you then take secondary highway 661 east to Highway 44, you effectively bypass Westlock. Unfortunately, my phone died just after we made the turn and I didn't see what the following direction was. So Danielle showed me her Apple Maps, which just had us go straight north to Fawcett. Great!
Unfortunately, the pavement disappears where 661 turns west in the map above, and despairing of having to go 25+ km on a gravel range road, we (barely) made a U-turn and then went east, which turned out to be a gravel township road. A rough and slippery one, with little traction and the worry that we'd get caught up on something. But Apple mercifully computed another range road going south that would get us back onto a numbered (and paved, thank goodness) secondary highway – 661, the one we should have turned on to but didn't know to.
Amazingly, Danielle's aunt was still up to greet us after all that. And she and her uncle told us we should have just stayed on 16 all the way to 44. Her uncle told us the difference between that way and Barrhead when going to Edson was a truck length – he and a colleague once each went the separate ways at the same time and then one was right behind the other at a stop sign in the end.
We took a side trip to Edmonton today, and Danielle's uncle offered to help us unhook the trailer. Being a trucker, he had a jack to lift up the very heavy trailer tongue: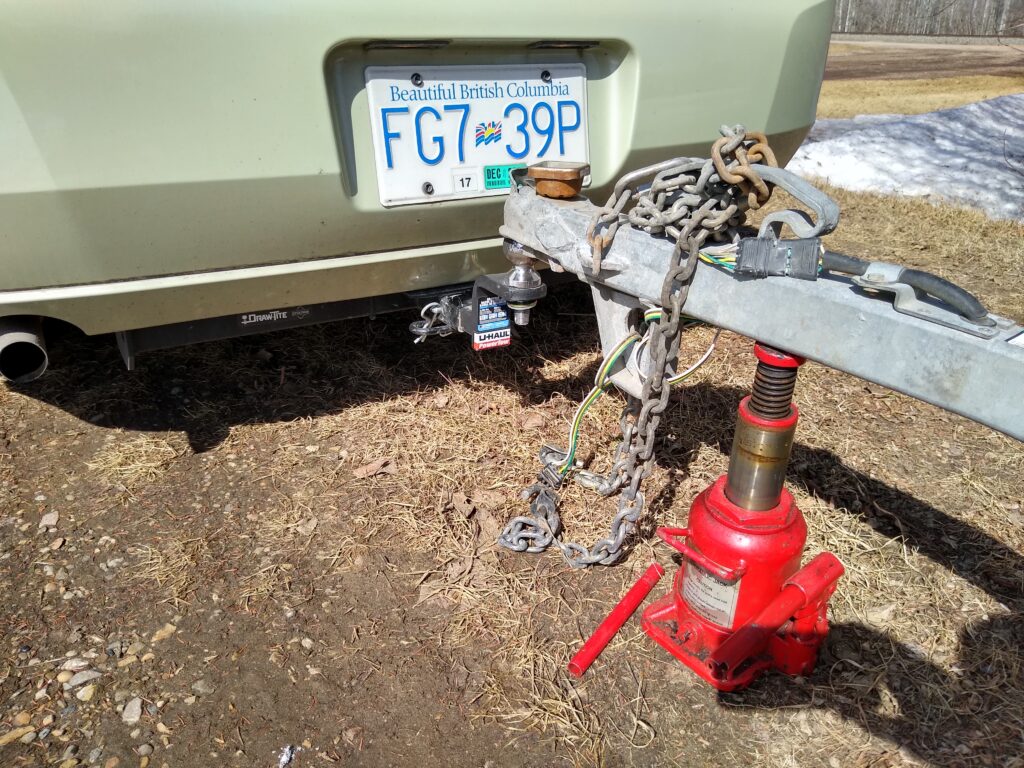 Alarmingly, and I don't know if you can tell in this photo, but the ball was a bit loose! I had only hand-tightened the nut underneath the mount, but he had the proper tool to tighten it and then he put a cotter pin through underneath that.
West Edmonton Maul lived up to its name and was very large and busy and crowded, but the food court had a big hit – Harvey's! I haven't had a chance to have Harvey's in forever, and it didn't disappoint. For those that don't know about it, it's kind of like a Subway, but for hamburgers.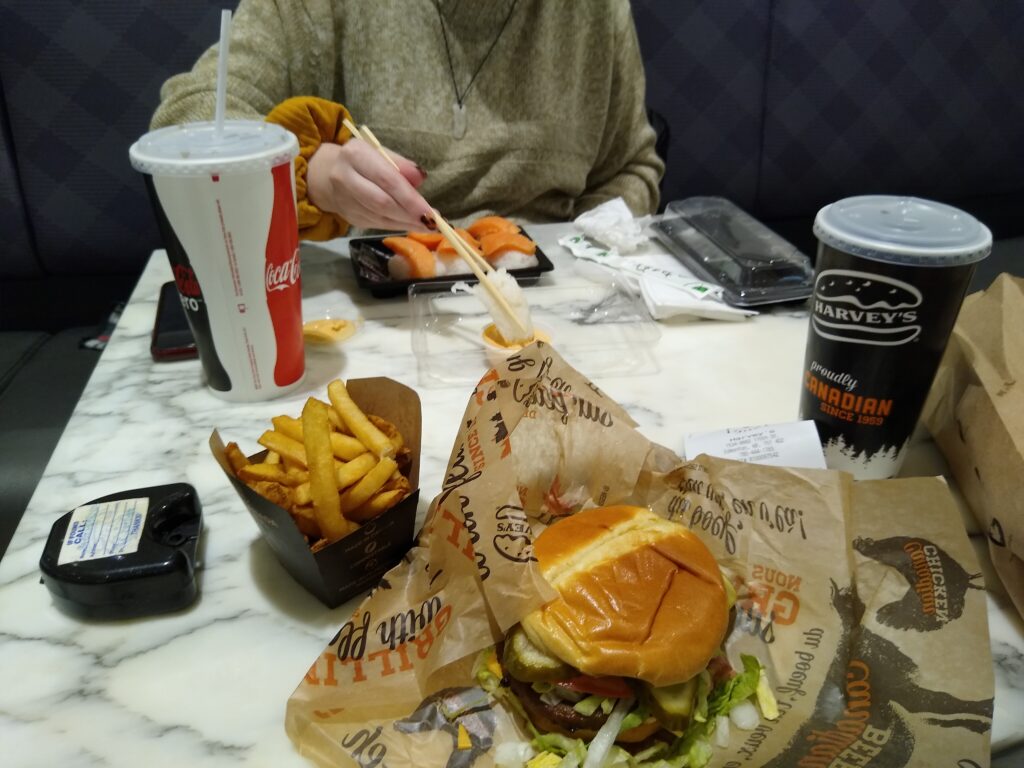 And when we got back to Fawcett we had a lovely homecooked meal and Danielle's aunt even helped us do our laundry.
But now it's time for bed, and in the morning we say farewell and set out for Saskatoon! I hope to swing by downtown Edmonton and get a highway map at Explore Edmonton. Having scouted it out earlier this evening, it appears as though Jasper Avenue has lots of right-lane parking that becomes no-stopping / tow-away for weekday (commuting?) times, but it'll be Sunday morning for us. I'd go to a Travel Alberta centre instead, but they appear to be closed on weekends until summer hits. Good night!
(2022-05-04: Edited to reflect that I had in fact seen Rearguard Falls in 2017, and not the Overlander Falls.)