It's Tuesday, April 12th 2022, and we're having a rest day at my cousin's house in the cottage country near Plaster Rock, New Brunswick. We mean to reach Sydney on Thursday evening, and the trailer is due at a U-Haul dealer there on Saturday morning. While I watch the river through the window (which according to our hosts opened up just days ago), seeing bits of ice floating downstream or little ducks swim against the current and occasionally dive, these bytes are being put up onto this blog via Elon Musk's pizza dish network.
A lot has happened, with not a lot of time to document it. Here's my capsule review of the Quality Inn in North Bay, where we stayed last Thursday night (the 7th):
In North Bay they have an actual freestanding Taco Bell that isn't just inside a KFC or a food court. We had to go in.
Still looking in vain for an official map of Ontario, we decided to try to get to the tourist bureau in Renfrew before it closed at 4 (according to Google). But about 60km before we got there, outside Pembroke, the trailer started to sway. It was odd, because we were only going 80 km/h just then, the road was bare dry, and there was no wind. Also the windshield-attached phone mount Danielle is using for her hyperlapse photography was shaking. I tapped the brakes and then noticed "LOW TIRE PRESSURE" on the instrument panel. I pulled over and put on the 4-ways.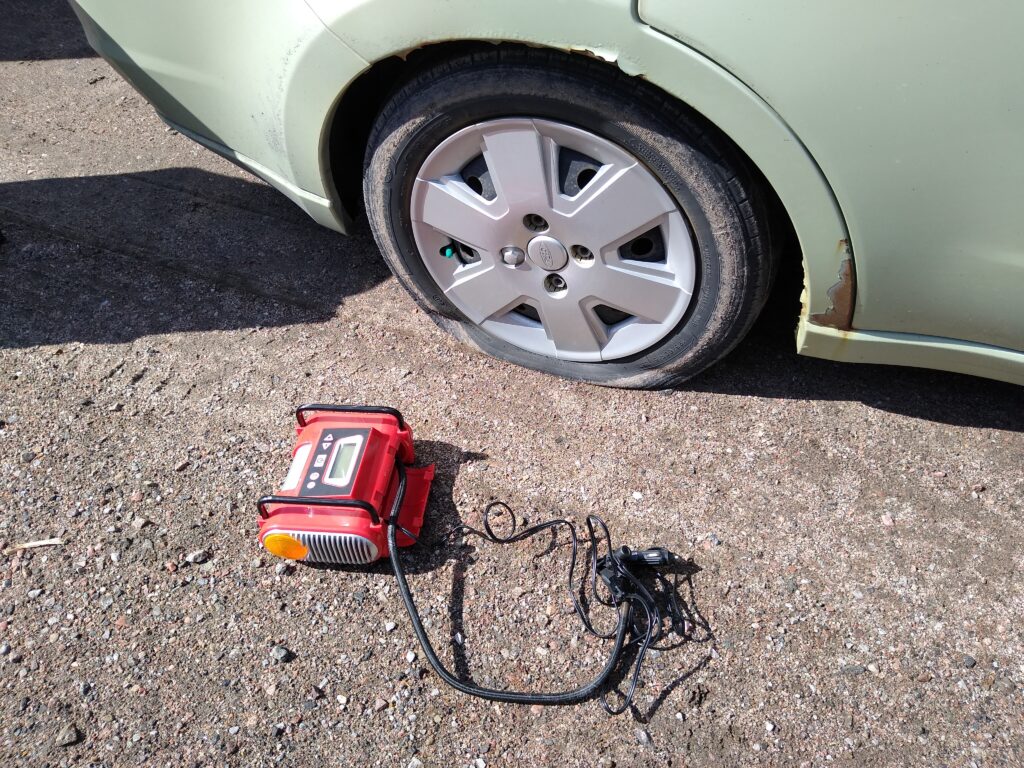 In hopes of it being a slow leak, I tried to put air in it, but to no avail. Now I do have plugs as well as a temporary spare (would the jack bear the trailer too, though?), so in theory if no help were available there were still two potential things to try. But the tire looked absolutely finished – the tread was worn right off of it. Not to mention I'd have to suss out where the hole was in order to plug it, though there are ways to do that (e.g., pour water over the tire, although the hole could also be facing the ground so you might have to try moving the car a little bit, or just jack it up anyway).
I phoned U-Haul, but since the problem wasn't specifically with the trailer, there wasn't anything they could do except send someone to help unhook and rehook. They suggested I phone a tire shop, and when I contacted Valley Tire, they were able to send someone out with a truck (and heavy-duty jacks) and a used winter tire that was all they had in my size, but which I was still happy to get.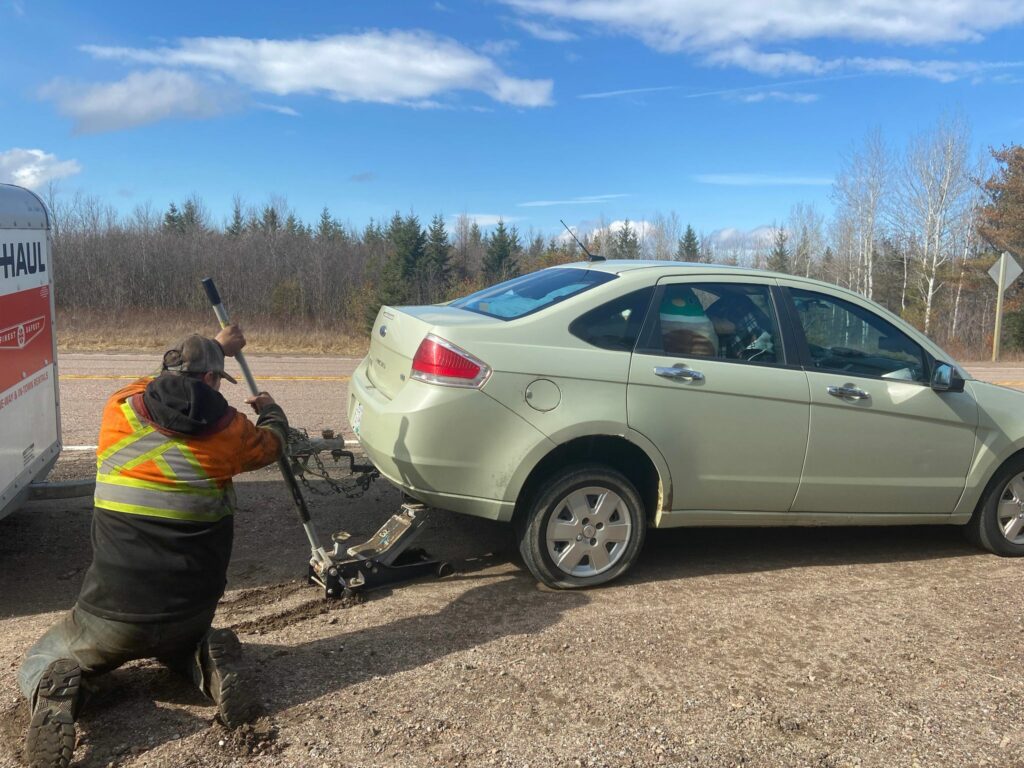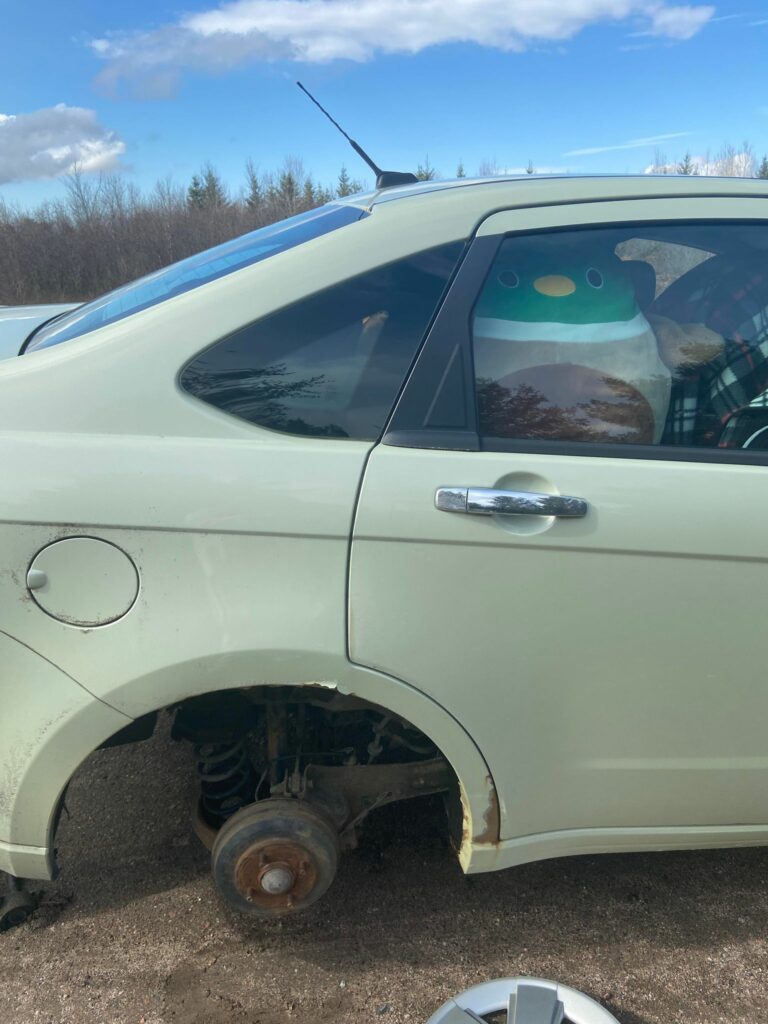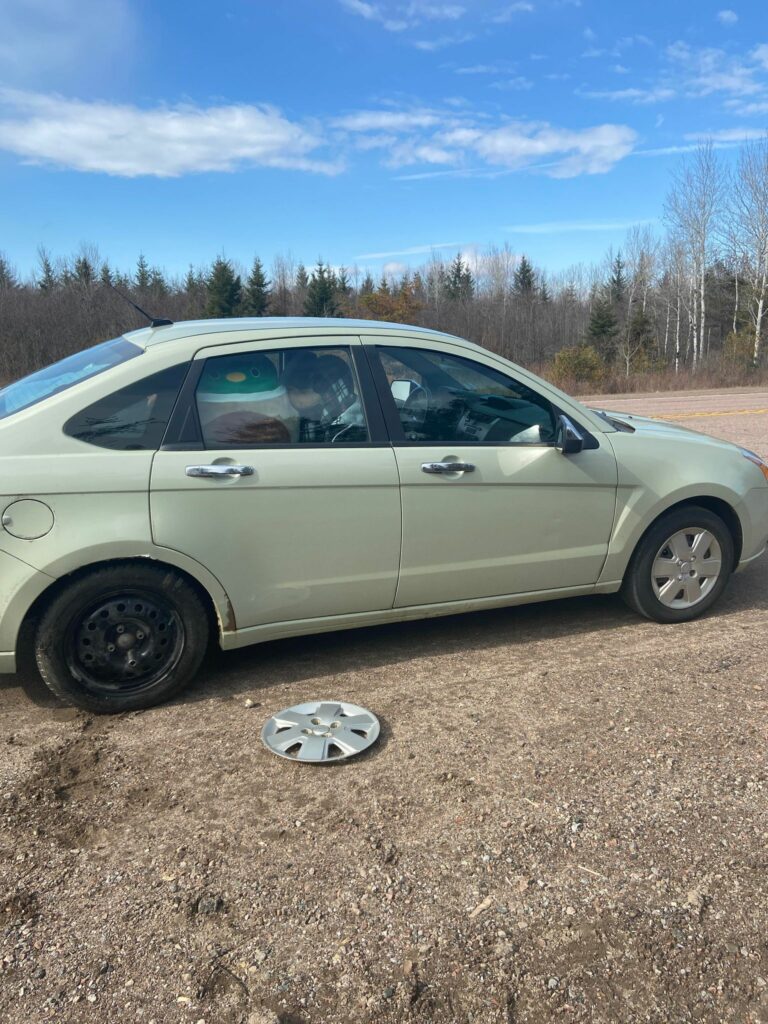 We were happy to get on the road again, although of course the tourist information center in Renfrew would long be closed by the time we got there after this delay. Our ultimate destination for the night, and the next night, was our cousin's house in Ottawa. Neil waved us right on in to his driveway – he and his wife Barb had their own vehicle parked elsewhere. I was very much relieved by this, as I had been dreading having to move the car and trailer every other hour on days containing 'r's or something like that. We were then immediately whisked inside to dinner. We spent the night in their spacious and charming attic: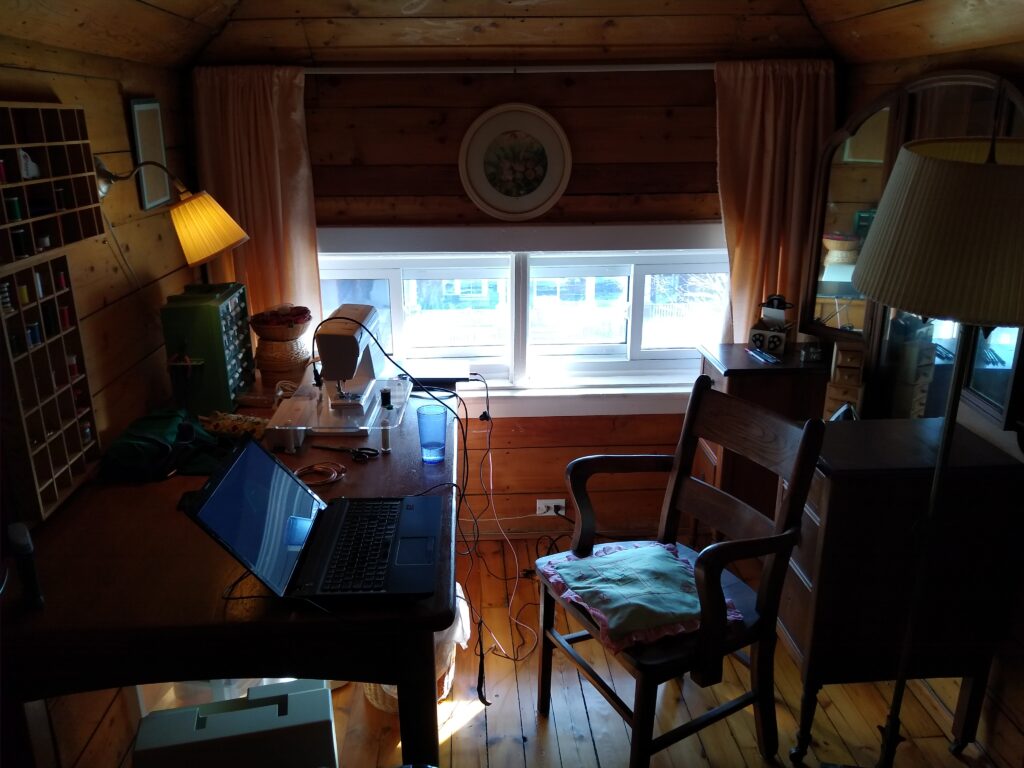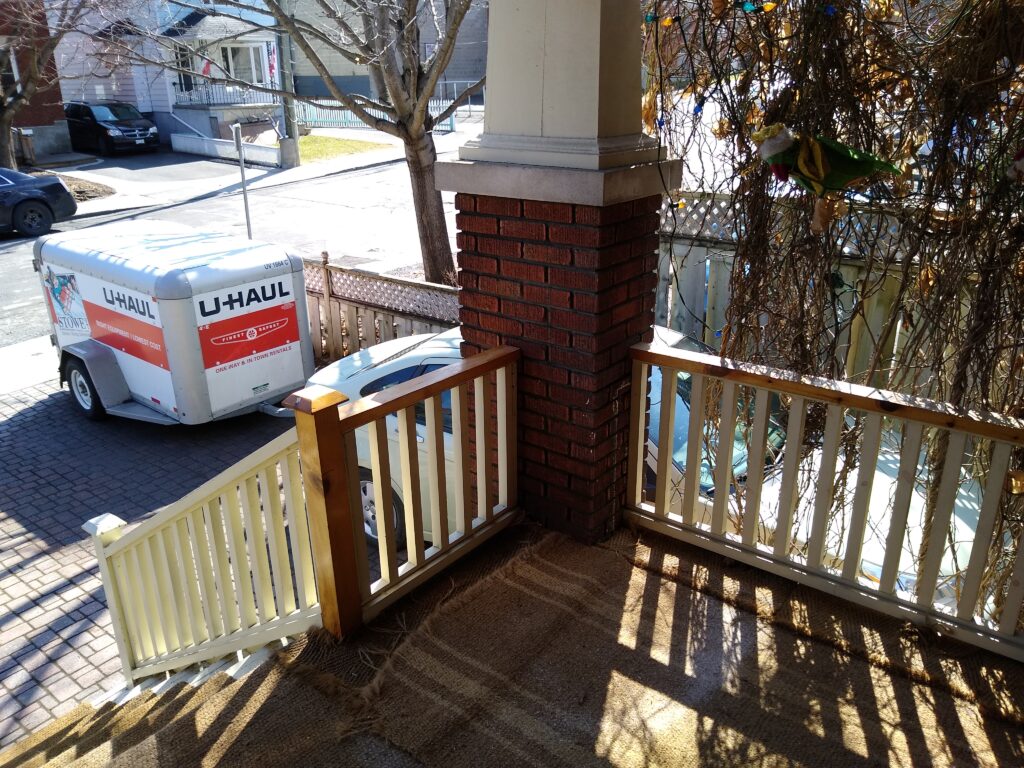 The following day, Saturday, after a homemade breakfast and then a walk with Neil and the neighbour's dog Harvey, we took the O-Train's Confederation Line downtown. We were accompanied by a cheerful and energetic young transit enthusiast and later on by someone with opinions about the mentally ill who probably knew what they were talking about, at least in the it-takes-one sense (that bit starts at 5:59).
There we met up with Neil and Barb's daughter Rachel, who gave us an extensive tour, imparting a great deal of knowledge. I was also able to pick up an official Ontario road map at the federal tourist information facility across from Parliament. And of course with Ottawa being our nation's capital, it attracts political protests.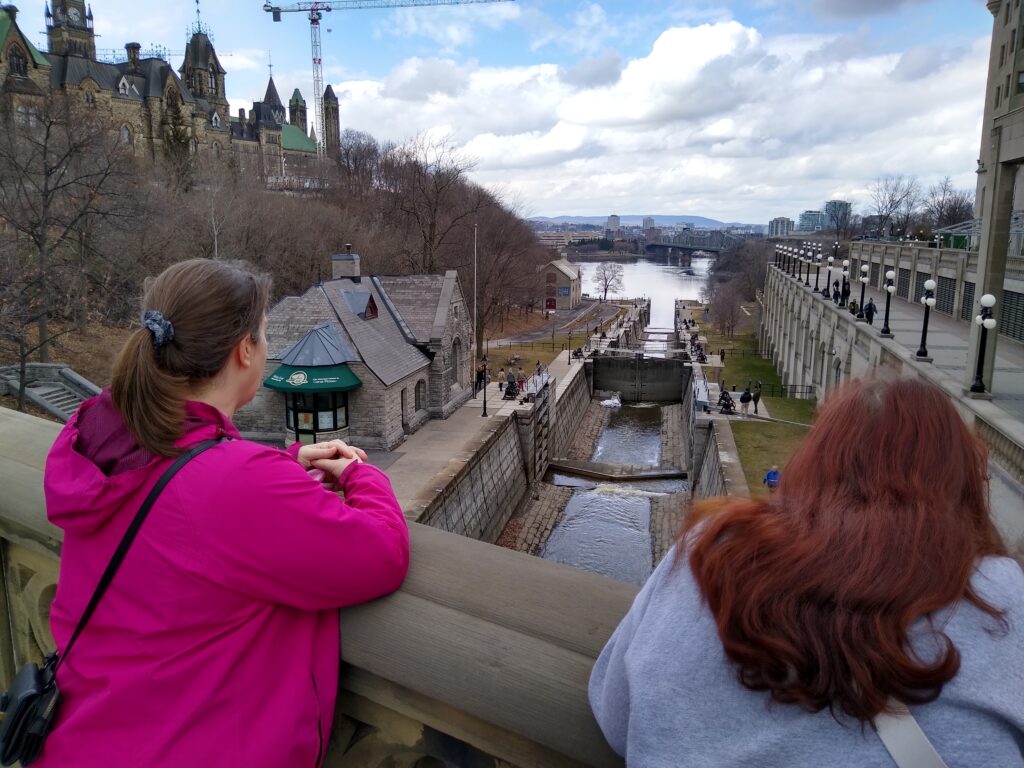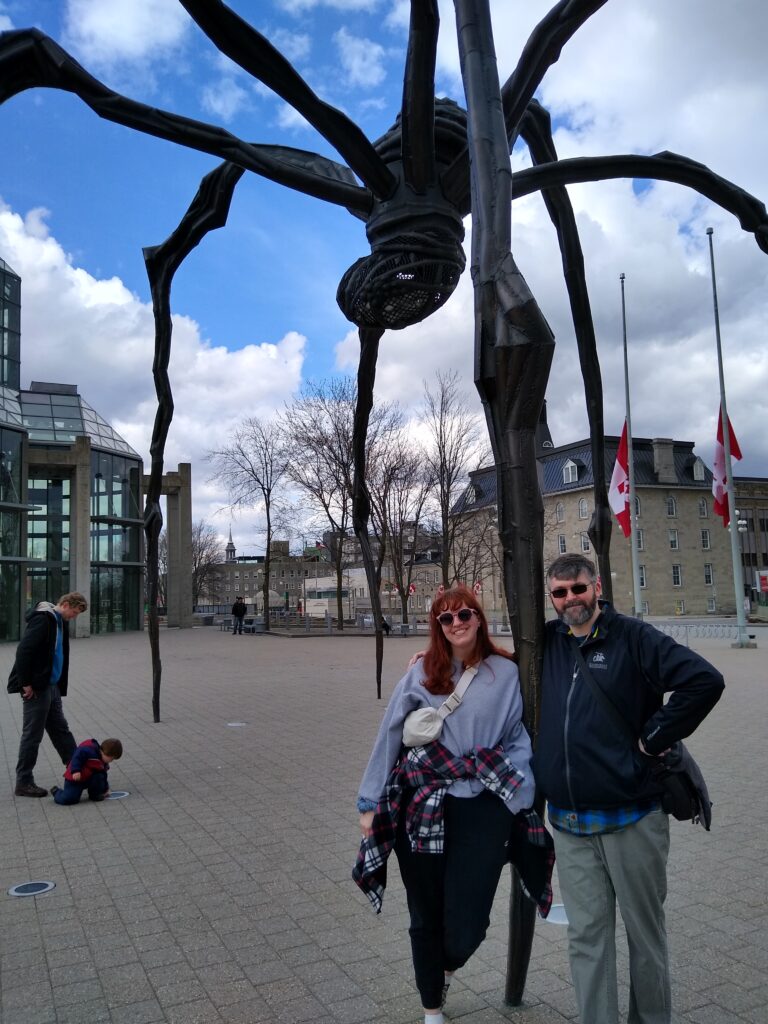 It was a nice early spring day, and we even had lunch outside: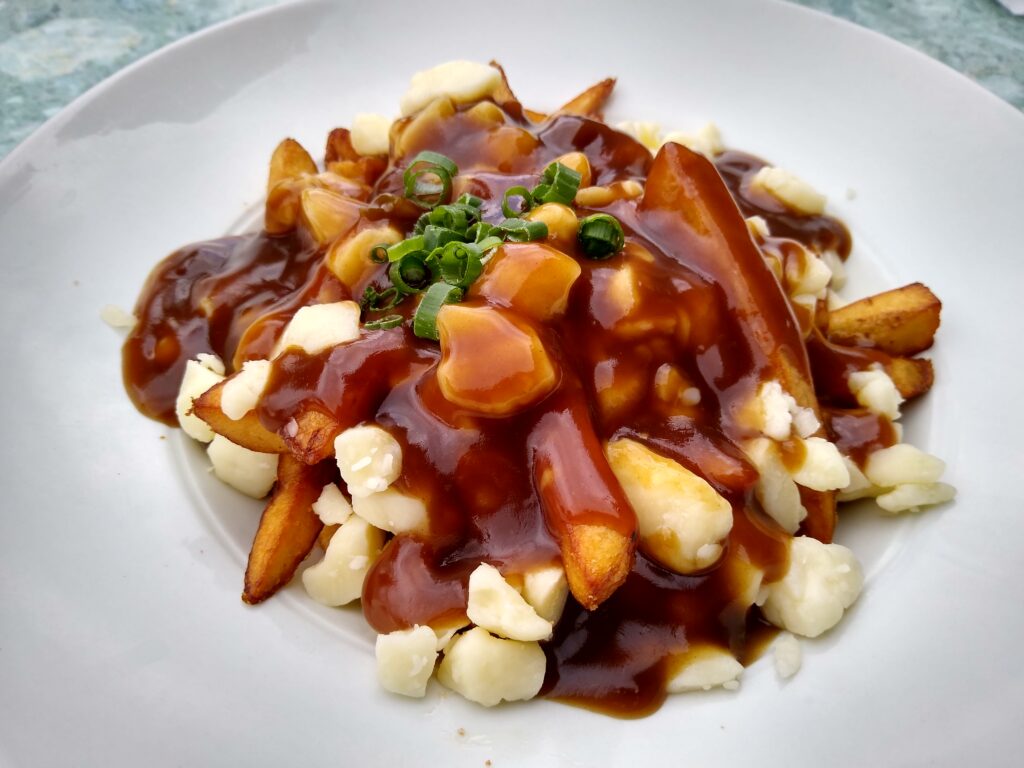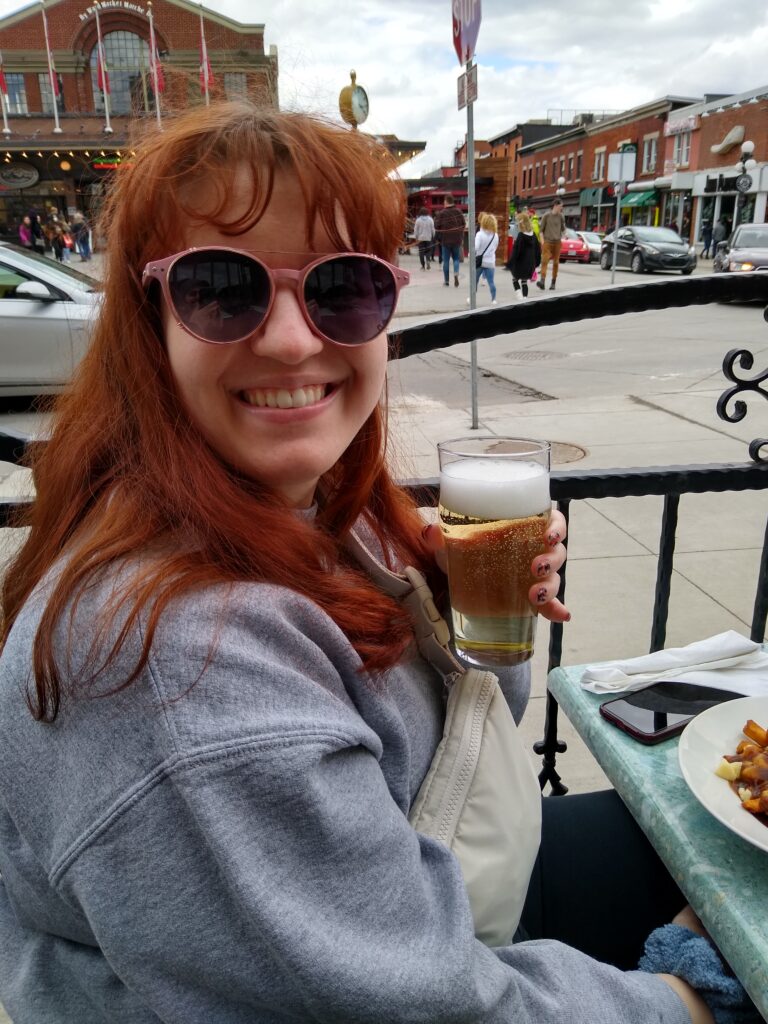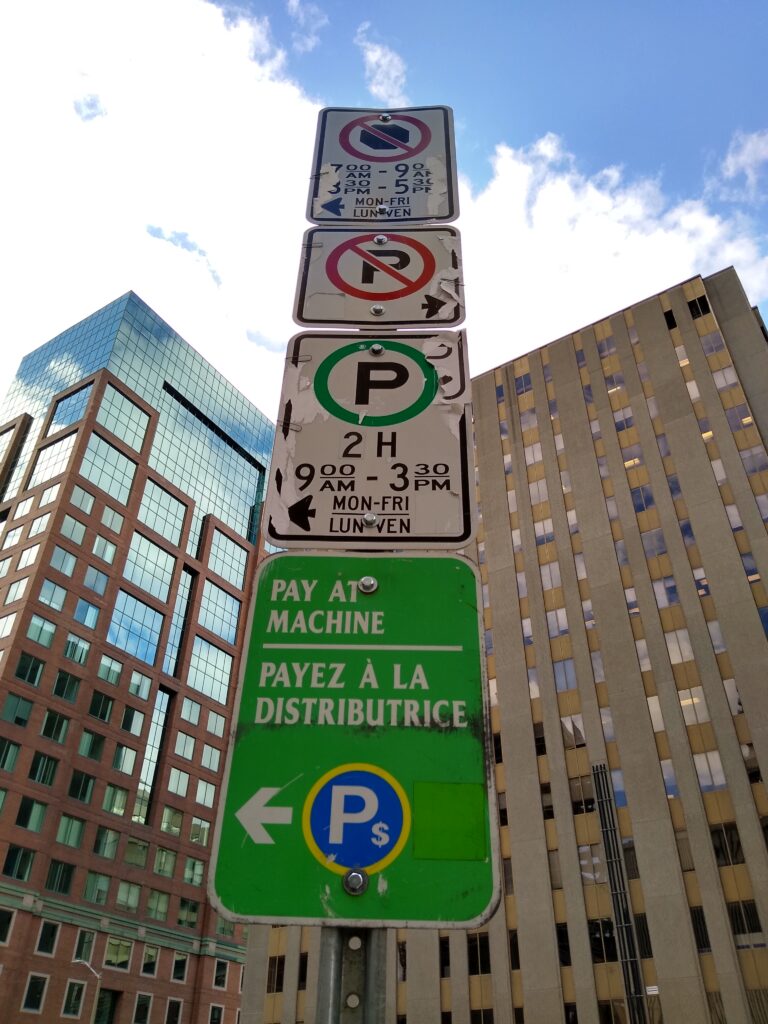 We went to Rachel's home to meet her husband and son, and then we went back to Neil and Barb's for another splendid dinner. As you might imagine, we were tired afterwards and retired early. On Sunday morning, after we got everything packed and ready to go, Neil and Barb took us out for Dim Sum and bubble tea.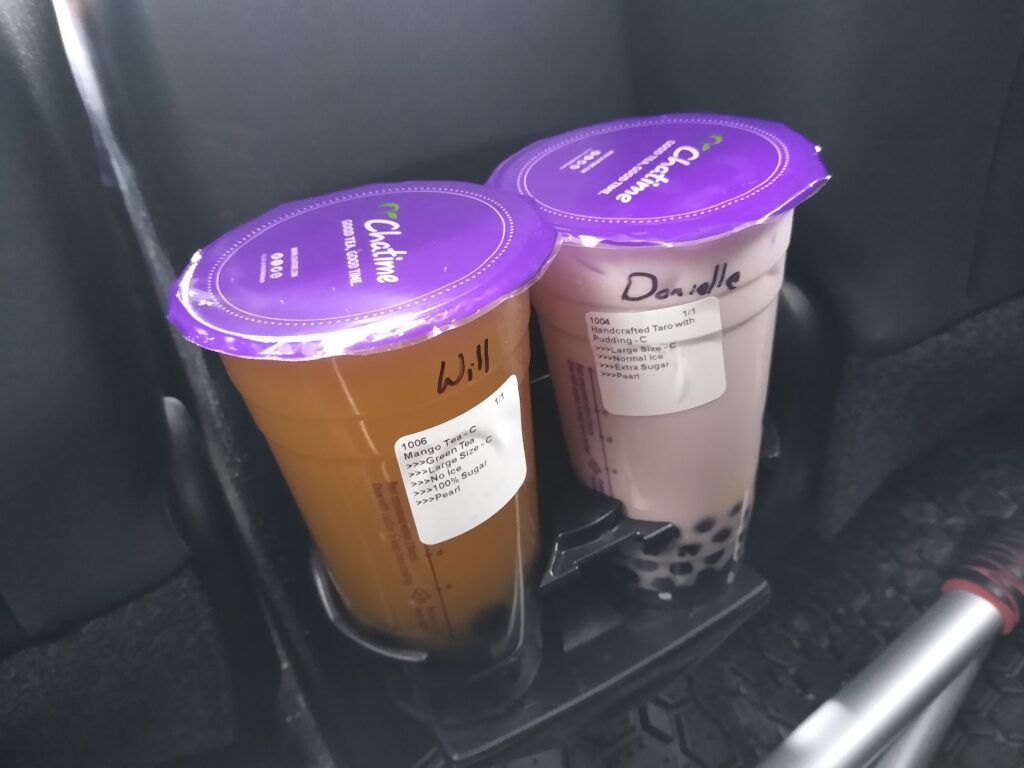 We had no problem whatsoever backing the trailer out onto the street – Barb even used her car to occupy parking spaces on the opposite side of the street, then moved it out of the way, but we probably could have managed either way (a much greater backing up challenge was forthcoming).
At some point before we left I checked the treads on the other three tires: the front tires are ready to be changed, but they'll probably get us home. The other, left, rear tire needed to be changed immediately – it was starting to look like the right rear tire did when we were stranded outside Pembroke. So our next item of business was to deal with that.
We bid our farewells, and then we set off in search of a tire store that was supposed to 1) exist and 2) be open on Sunday. It fulfilled neither expectation. Then the second place we tried failed criteria #2. Then one place I phoned said they couldn't get me in today. Then another said they didn't have my exact tire size on hand.
I decided we could try our luck and try to get to Quebec City anyway – there would be more opportunities on a weekday morning. (Not having tried to use my limited French yet, I wasn't worried about the language barrier.)
We stayed at a Super 8 west of Quebec City proper. It was clean and comfortable but in my opinion lacking in conscientiousness.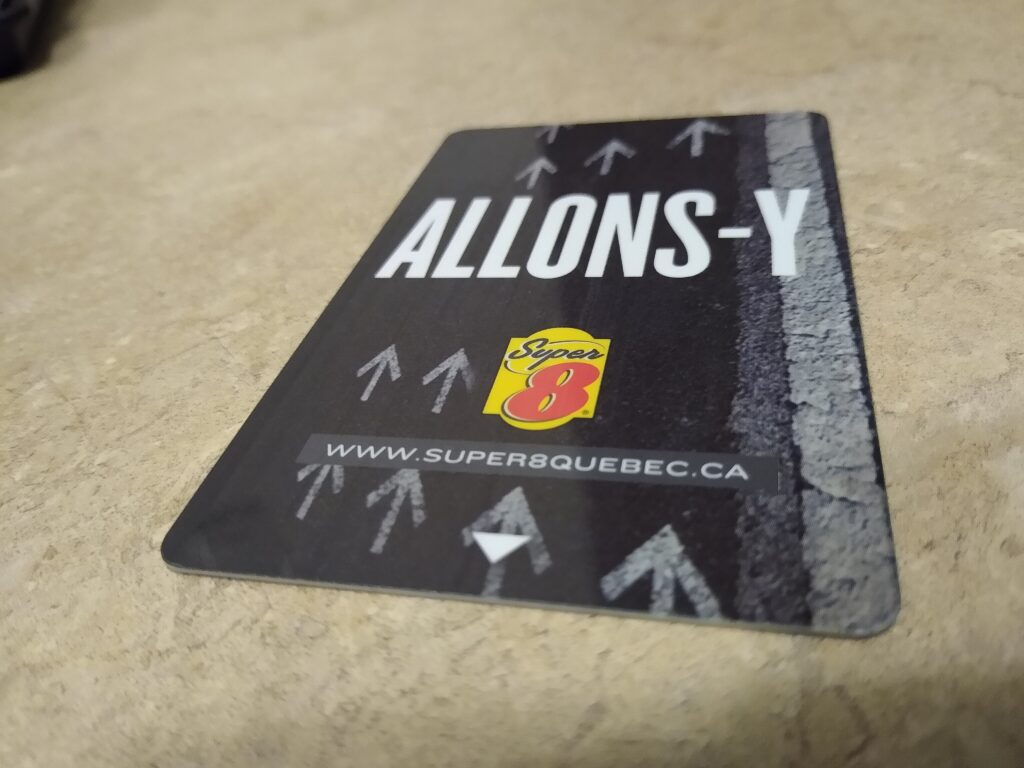 Regarding the tire, my first instinct was to go to a nearby Canadian Tire, in person. My reasoning was twofold – it's easier to communicate in person than over the phone, and also (perhaps more importantly) it's more difficult to dismiss a problem that is standing in front of you. And something amazing happened – we got in! They said to give them an hour before they could see to it, which didn't seem so bad because we could have breakfast while we waited. When we came back, intending to walk to the Walmart, we found the car already finished! Then after I paid and expressed my gratitude as best I could, I almost got us stuck in a C-shaped "no-trucks" section of the parking lot that I thought I could cut through.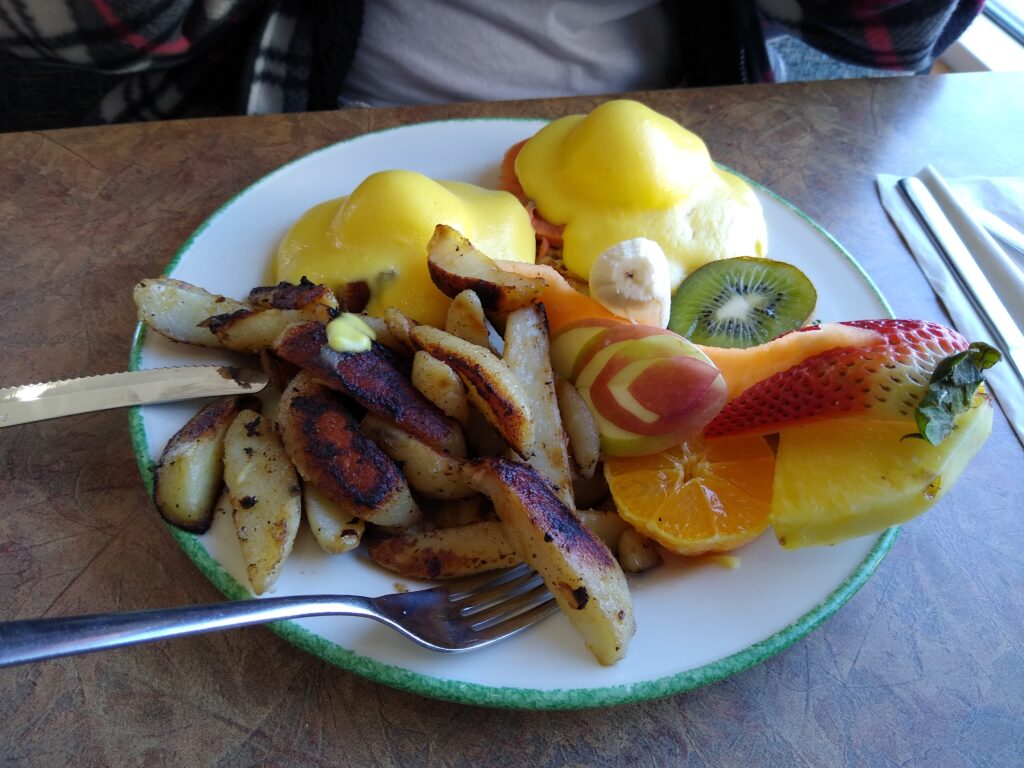 Next it was off to Autoroute 20 and a slight backtrack westwards to a provincial highway rest stop (Halte-routière – Quebec has a pretty good network of these, the newer ones are very nice) that included an open visitor's information centre, in order to get an official Quebec route map:
The night's destination was, as I said at the top, my cousin's home in northern New Brunswick.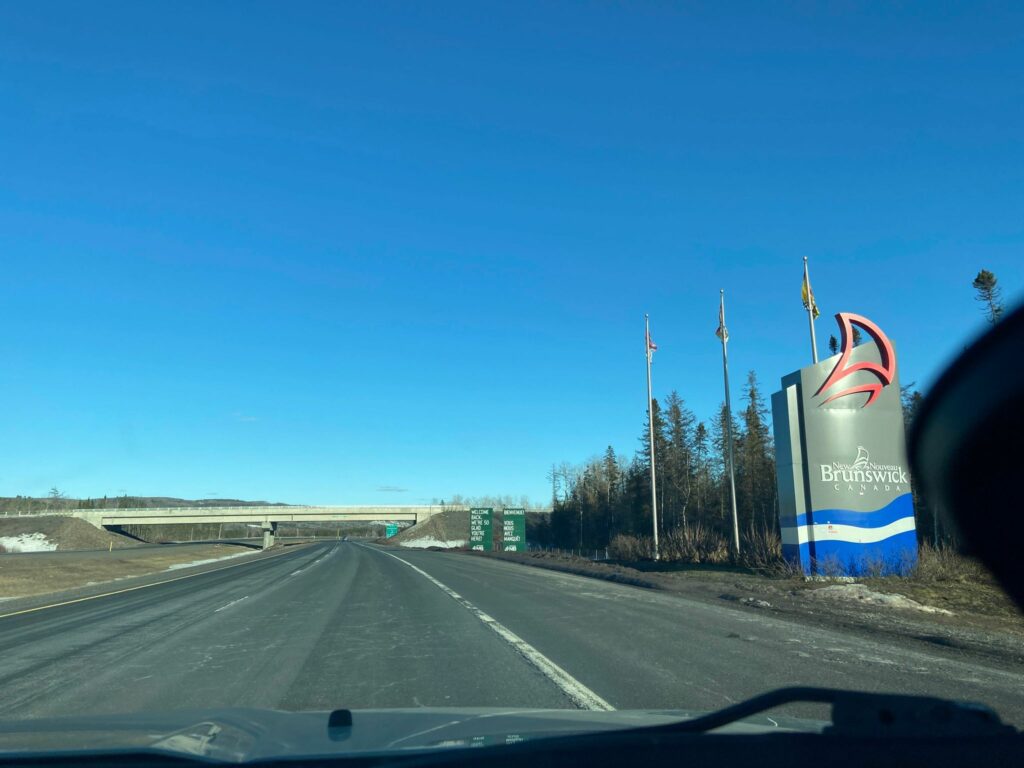 To get there, we passed through Grand Falls:
The car made it almost all the way down the final slushy and muddy (nominally gravel) road to the house before getting stuck. My worn-down all-seasons just couldn't pull the heavy load through the melt-resistant shaded road.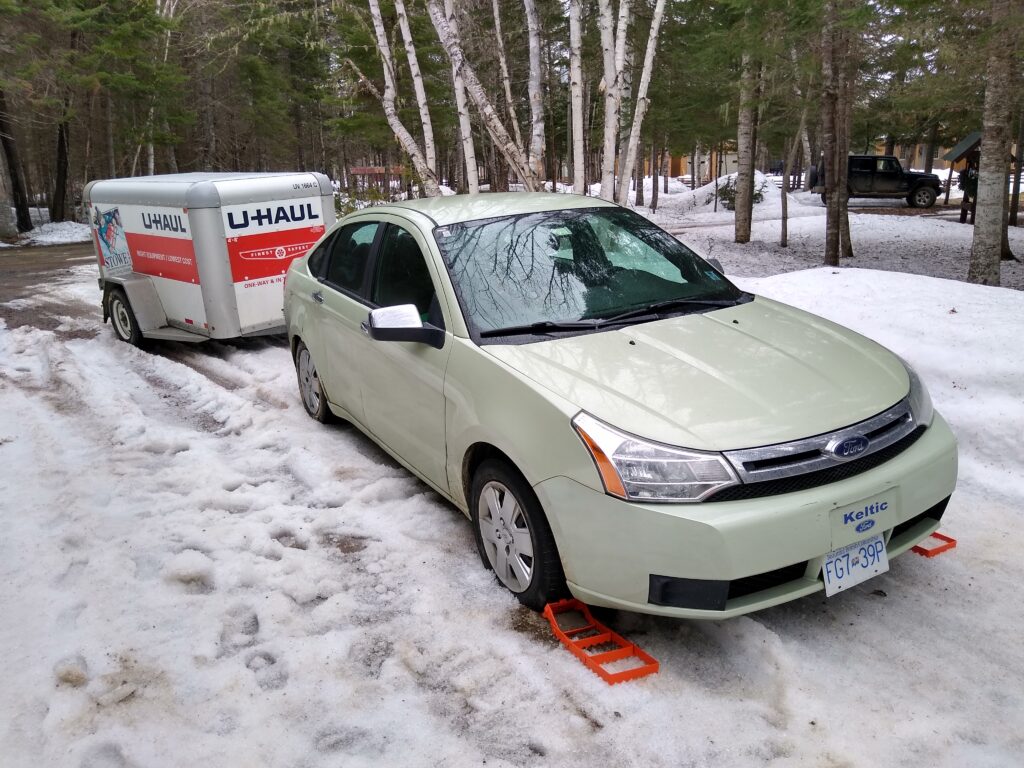 In the morning a neighbour helped us unhook the trailer, which enabled the car to get free, and then towed the trailer back up to the main road at another neighbours', which is probably where we should have left the car and trailer in the first place.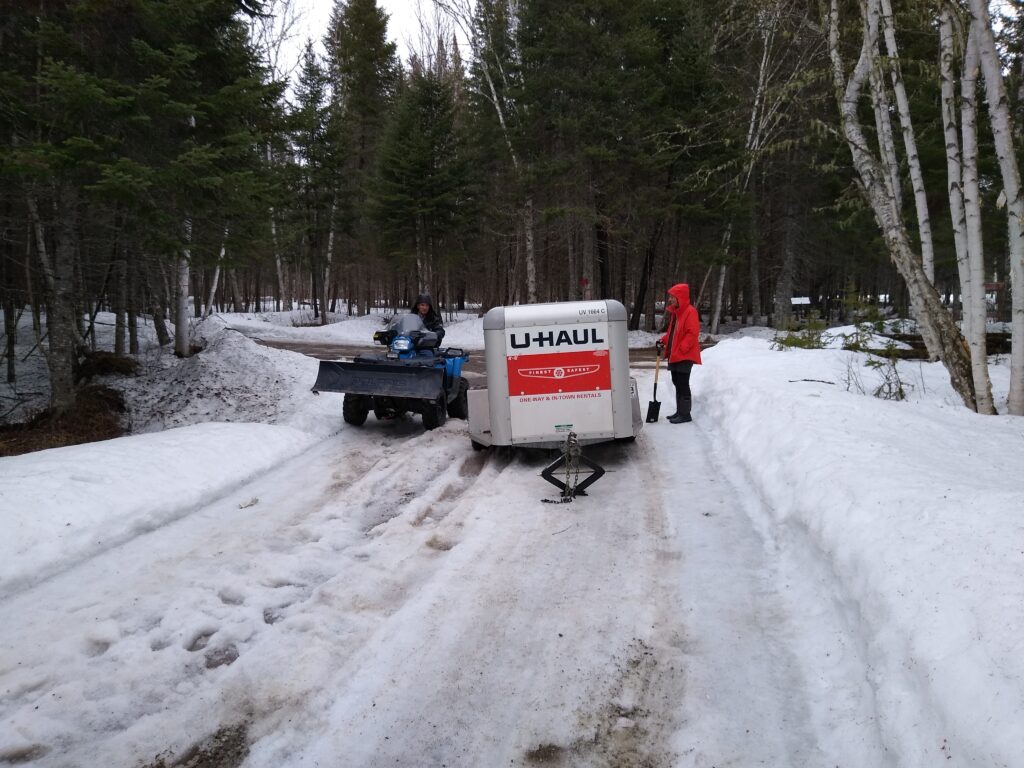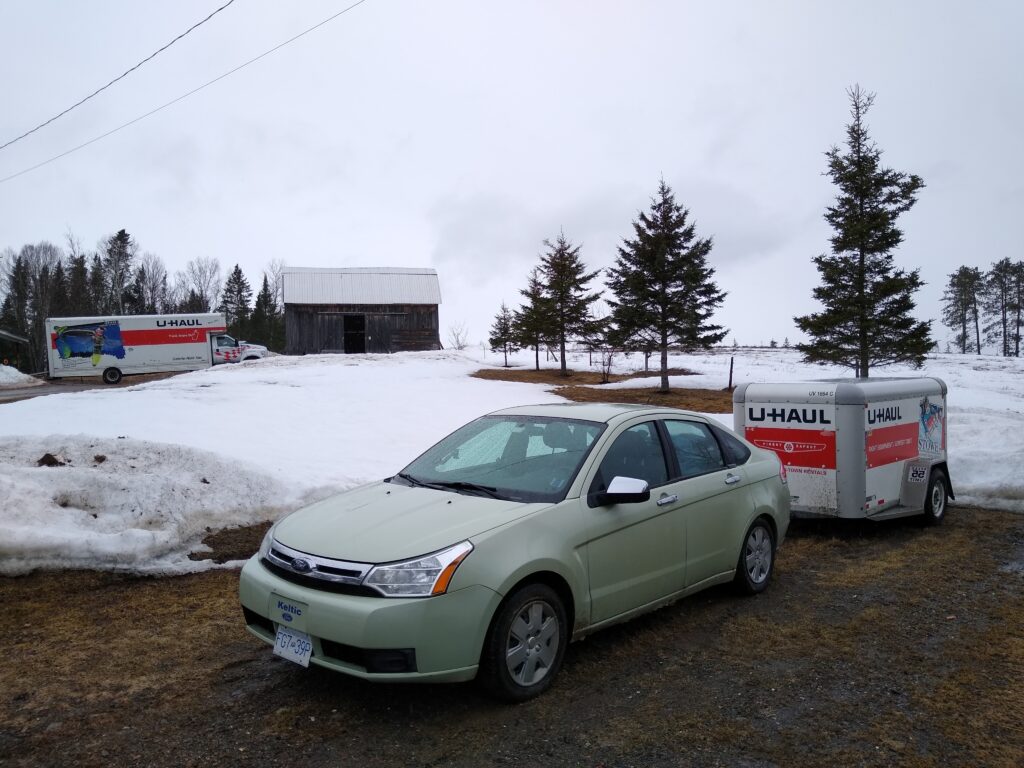 Having freed the car and becoming assured of our ability to get back underway tomorrow, I explored my cousin's property and surroundings a bit:
And now we're basically caught up to, uh, now, though I certainly didn't cover every detail. It's time for dinner with my cousin and her husband, and to get a few more videos stitched together and uploaded.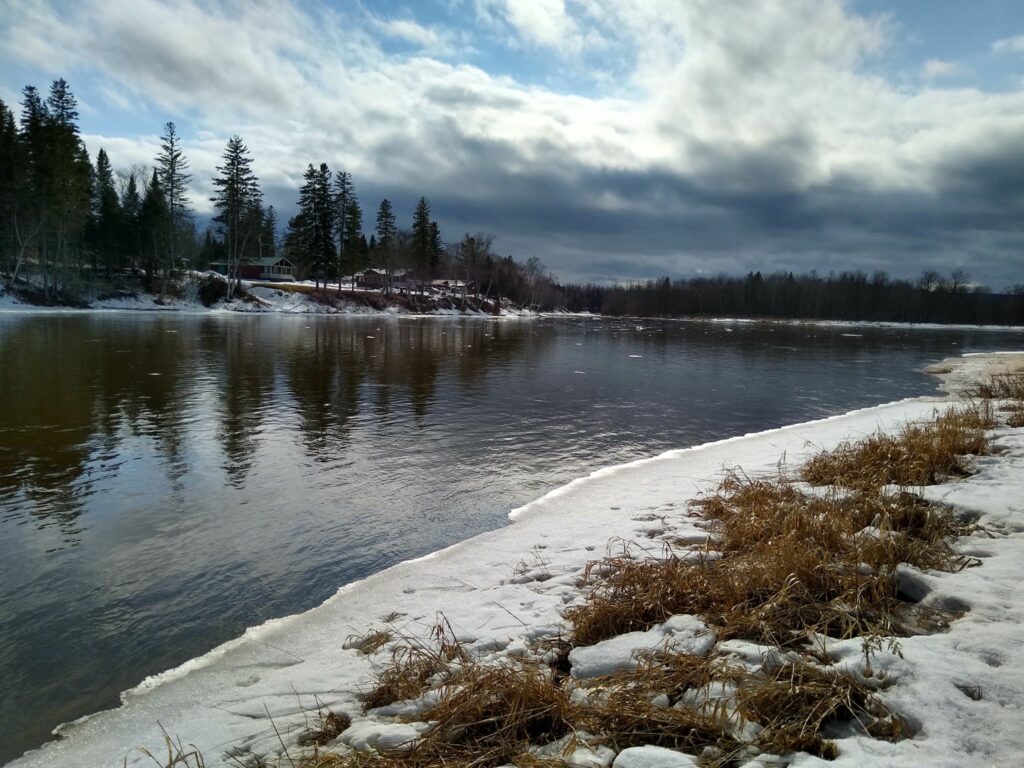 See you next time!